When it comes to fashion icons, we often look towards established models and actresses for inspiration. However, there are occasions when new faces emerge, and they bring with them a refreshing twist to the industry. In this case, we're talking about none other than Mia Khalifa, the latest muse of Marc Jacobs. Known for her bold and fearless personality, Mia Khalifa's style resonates with anyone looking to make a statement with their wardrobe. And, Marc Jacobs, well they just have a chokehold on the Gen-Z consumer, and they know exactly how to target them.
Khalifa has been channelling her love for fashion into a new venture as of late. Her fashion sense goes beyond just following trends – she sets them, she is an amalgamation of grunge and streetwear influences. From crop tops and high-waisted baggy pants to oversized jackets and statement sneakers, Mia's aesthetic is anything but conventional. Her enviable wardrobe, packed with both big brands and little ones, has turned her into a front-row fixture at Paris and Milan Fashion Week, while also giving her the space to develop her body jewellery brand, known as SHEYTAN. The girl can do it all.
And our favourite part to Khalifa – she represents different body types in fashion – a step towards inclusivity in the industry. That's a solid WIN in our eyes.
Now, she stars in Heaven by Marc Jacobs' latest photoshoot campaign, wearing the cult label's latest must-have items. Here, Khalifa serves in a Daisy Tank dress, the Daisy Lone Star bustier with a matching denim shoulder bag, a pair of Razor Blade earrings, the Star crochet dress, a loose-gauge knit Rainbow Bridge top, a metallic pink pair of short shorts, the brand's already-iconic Margaret platform boots, the Daisy laminated ribbed dress, and a final pair of denim shorts.
It's a mix of the latest and the greatest by Marc.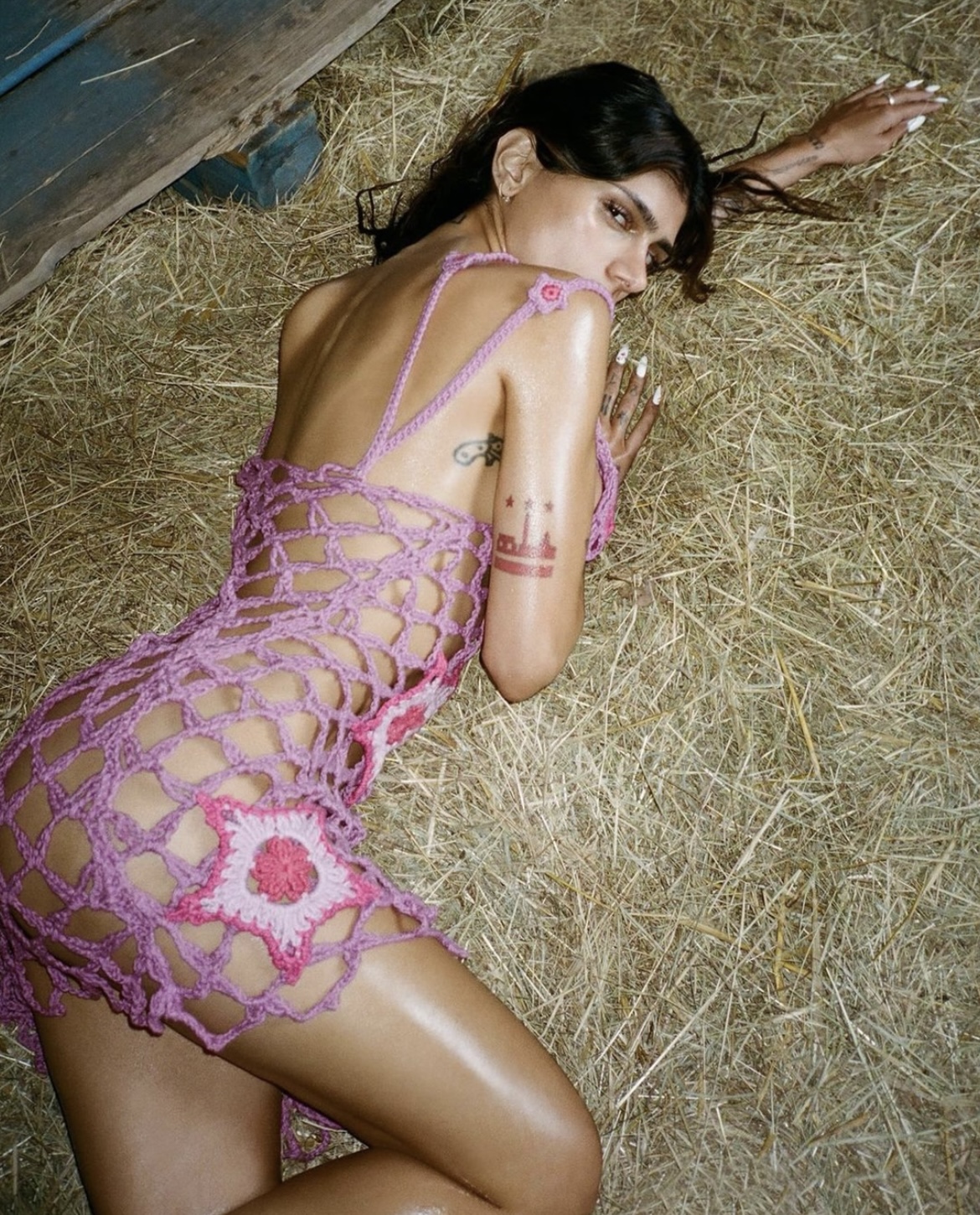 Mia Khalifa is the new age muse for Marc Jacobs, and it's not hard to see why. Her approach to fashion is unconventional, daring, and refreshing, making her a beacon of inspiration for anyone looking to make a statement with their wardrobe. This campaign puts the focus on Khalifa wearing the brand's latest-and-greatest, but it should also be noted that the pieces are also hugely versatile.
Heaven by Marc Jacobs is a genderless brand, designed to be worn by all – freaking cool if you ask us!
Featured image via Instagram @hypebeast.