Attention all Post Malone fans!
The American rapper-singer, Post Malone will be touring on the back of his upcoming album, Austin, set to be released on July 28 with his Aussie tour kicking off on Thursday, 23rd November in Brisbane. It hasn't been long since Post Malone was last in town.
He offered support on the Red Hot Chilli Peppers' massive stadium show tour this past January and February. He'll be soaking in the rays of another Aussie summer when he makes his way over in November, supporting his third studio album, "Hollywood's Bleeding," which was released in September 2019. The "Circles" and "Goodbyes" hitmaker has promised to deliver an unforgettable performance to his Australian fans, and we are all pumped for it!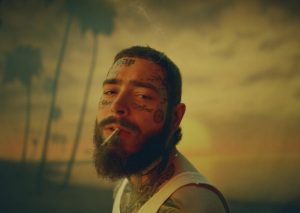 Fans can expect to hear new material on tour this summer & according to Posty, fans are going to love the new album. He told the media, "I think everybody's gonna like it. It's got a lot of meaningful stuff and a lot of fun, good music on it." "Hollywood's Bleeding" has already proven to be a commercial success. It debuted at number one on the Billboard 200 chart and has sold over 3 million copies worldwide. The album also features some popular guest artists, including Travis Scott, Ozzy Osbourne, and SZA.
While the venues for the Brisbane Sydney, and Melbourne shows have been announced, there's a curious TBC adjacent to the Gold Coast, Ballarat, and Canberra Dates. There's speculation online that Post Malone's tour promoter Live Nation may have accidentally revealed the rapper to be a headliner of Spilt Milk festival, which takes place in those cities around those times.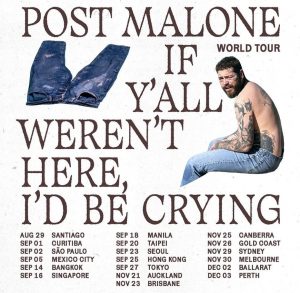 Post Malone Australian Tour Dates 2023
Nov 21 – The Outer Fields at Western Springs, Auckland
Nov 23 – Brisbane Showgrounds, Brisbane
Nov 25 – TBA, Canberra
Nov 26 – TBA, Gold Coast
Nov 29 – The Domain, Sydney
Nov 30 – Melbourne Showgrounds
Dec 2 – TBA, Ballarat
Dec 3 – TBA, Perth
General tickets go on sale Thursday, 13th July via Live Nation. As tickets are expected to move quickly, we suggest opting for a presale if you can. 
Images via Instagram @postmalone & @adamdegross