After days and weeks of speculating the 2024 Laneway Festival lineup and betting your mates copious pub feeds over artist predictions, the official list is finally here.
Following Fred Again, HAIM and Joji's appearances last year, we were convinced that the next year couldn't get any better.
We stand corrected.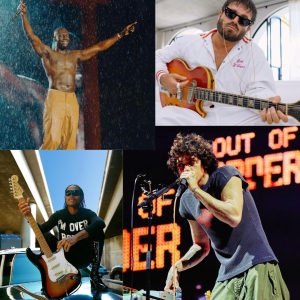 This year's lineup is led by the one and only, Stormzy, who will be returning down Under the first time in about a year after pulling out of his Aussie tour earlier this year. Arm in arm with Stormzy is "Euphoria's" Dominic Fike, followed by Steve Lacy, who will perform exclusively in Adelaide, Brisbane, Melbourne and Perth. Meanwhile, for Suki Waterhouse, Paris Texas, Faye Webster, Hemlocke Springs, Eyedress, and Blondshell, this will be their first time down in the land of meat pies & blitzing summer's sun and we are stoked to have them here!
From there, the lineup also spans AJ Tracey, d4vd, Dope Lemon, Unknown Mortal Orchestra and more. All of the above acts will play all cities, with some fellow talents only popping up in either Australia or Aotearoa.
PSA: Stormzy and Fike are doing exclusive Laneway tours — so, for all of you playing at home who are stinging to see either of these musically gifted artists, you'll only catch them at the fest while they're in both countries. In Australia, Lacy is exclusive in Adelaide, Brisbane, Melbourne and Perth.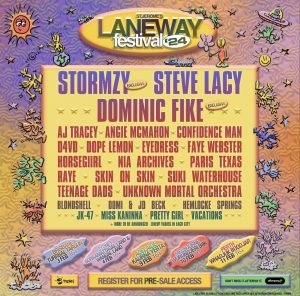 Wondering how to secure tickets? You can register for the Laneway ticket pre-sale to guarantee a spot at the festival. Pre-sale begins at 11am, Tuesday September 12. While general ticket release kicks off two days later at 11am, Thursday September 12.
Full Laneway Line-up
Stormzy
Steve Lacy
Dominic Fike
Raye
AJ Tracey
d4vd
Dope Lemon
Eyedress
Faye Webster
horsegiirL
Nia Archives
Paris Texas
Skin On Skin
Suki Waterhouse
Unknown Mortal Orchestra
Blondshell
DOMi & JD BECK
Hemlocke Springs
Pretty Girl
Featured image via Instagram @stormzy, @ajtracey, @dominicfike, @dopelemonmusic, @steve.lacy.