PVC took over the fashion world earlier this year in the form of totes and handbags with big name brands like Maison Margiela, Comme des Garçons and Raf Simons taking the trend under their wing.
It was only a meaning of time before totes were pushed off of the PVD pedestal and replaced by yet another fully see-through fashion item.
Although stools aren't exactly the first thing to come to mind when thinking of runway ready designer items, apparently in 2018, they're totes normal. Earlier this year, Prada filled their SS19 show with Verpan x Prada PVC stools.
The stools, initially inspired by Verner Panton's 1960s design, were completely transparent and complete with the Verpan x Prada branding; and as of November, you could have your very own.
The stool is made from 100% recyclable transparent film and retails for $850 USD, coming with a carry case and an electric inflating machine, too.
Although this luxury item seems totally obscure and pointless, Prada aren't the only brand buying into the PVC furniture business.
As of recently, Supreme have come out with a PVC inflatable armchair. Although it's not exactly what we were wishing for, we can't say we're surprised following the countless random Supreme releases we've encountered in the past.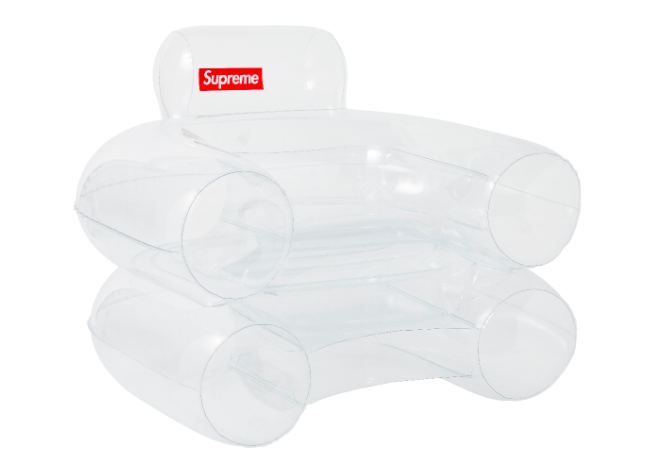 The chair is complete with bogo branding and retails for $245 USD, mere loose change compared to the Prada stool (if you're actually cooked enough to buy one).
At this rate, we're expecting more PVC furniture to come in time for the summer, and maybe even some luxury pool floaties as well.
Speaking of the unconventional in fashion, check out how A-COLD-WALL* reimagined the Air Force 1 Low.
Cover image via Prada and Supreme.
Article images via AMO and Supreme.