Rihanna's gearing up to launch a brand new fashion label with LVMH.
The line will be called Fenty, and will join Rih's growing style empire, including her Fenty-branded cosmetic and lingerie lines. So, if you're keeping track at home, Rihanna, is now about a third of the way to complete world domination.
The Fenty fashion label is set to include ready to wear, as well as accessories like sunglasses and jewelry.
View this post on Instagram
Rihanna's line will be a historic one for LVMH, the luxury conglomerate whose fashion properties include Dior, Fendi, Givenchy and Louis Vuitton.
Fenty marks the first label launched by a woman in LVMH. It will also be the first time a black woman leads a fashion house in LVMH history. Basically, it's Rihanna's world and we're all lucky enough to be living in it.
No launch date is set yet, but LVMH's official website currently describes Fenty as "fast approaching".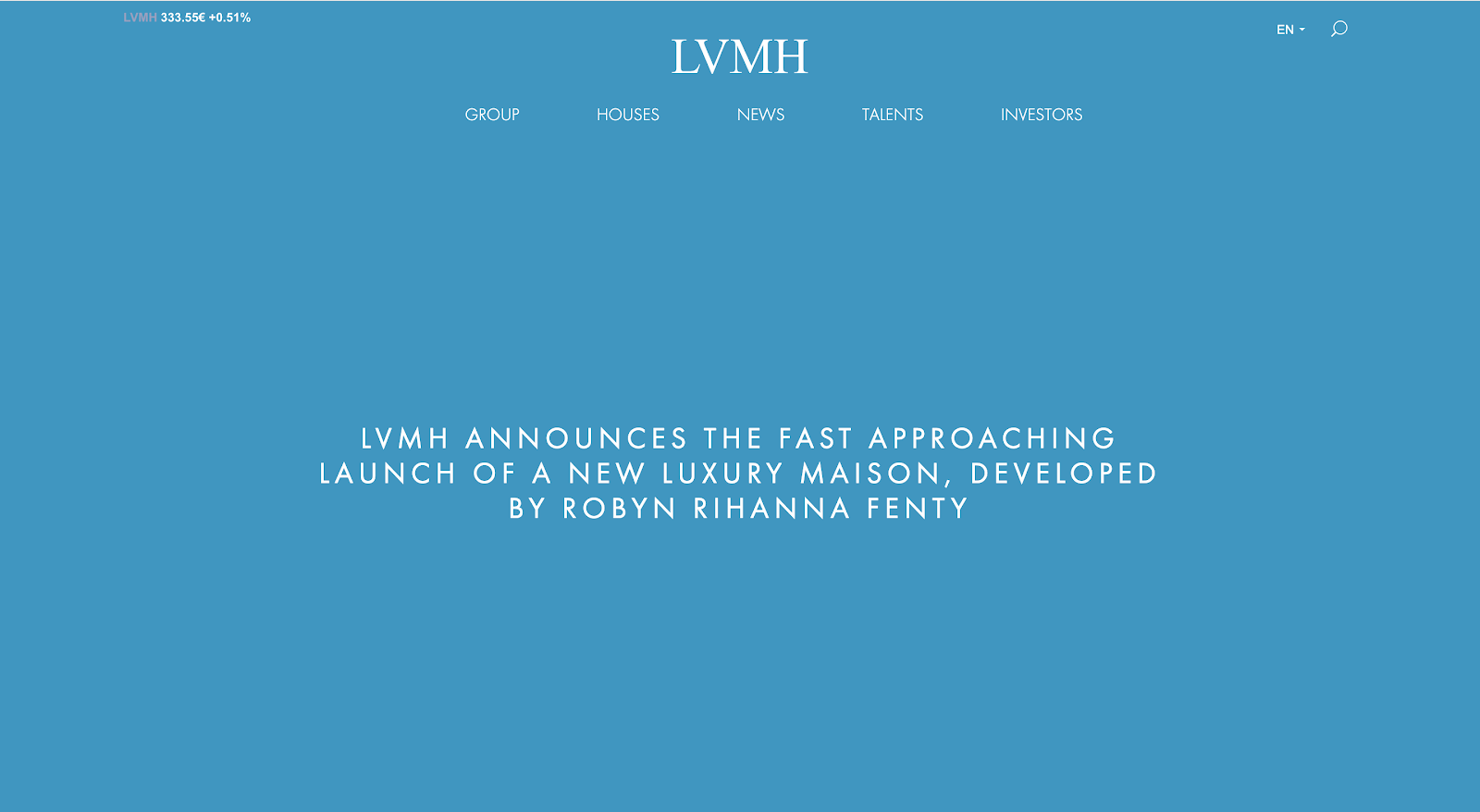 The pressure is definitely on for Fenty to be a smash success. But considering her namesake cosmetics line has reportedly made a massive $550 million USD in its first year, we know better than to doubt the power of Rihanna.
In other LVMH news, the luxury conglomerate is opening a hotel in London. 
UPDATE 21/05/19:
Fenty season is officially upon us.
While Rihanna's LVMH line was previously teased as "fast approaching," the pop superstar has given us our first official look at the collection through a cover story in T Magazine.
View this post on Instagram
View this post on Instagram
View this post on Instagram
Fenty also dropped a teaser video to preview some of its first pieces. The video features models in front of multiple changing backdrops, sporting the looks that make up Fenty's initial drop, including boxy denim jackets, oversized sunglasses, and androgynous suits reminiscent of Rih's personal style.
The pieces will range from $480 USD for the sunglasses, up to $1,000 USD for jackets.
Hopefully you've saved up and ready for your new Rihanna-approved wardrobe. The first pieces will be available at a Paris pop-up on May 25, with an online drop on May 29 through the Fenty website. 
And don't worry if you miss out on this first drop; according to Rih's interview with playwright Jeremy O. Harris for T, Fenty will forgo the traditional runway show and will instead opt for dropping new pieces every few weeks. Harris compares the strategy to singles from an album.
Speaking of the album, the artist did give an update on her elusive new music. After teasing fans more than a year ago about working on a reggae album, Rih said she's considering naming the album R9, a fan-given name she's now embraced.
She also ruled out the idea of working with Drake, though said she was open to collaborating with Lady Gaga.
.@Rihanna says she don't know what her reggae album will be called:

"So far it's just been R9, thanks to the Navy. I'm about to call it that probably, 'cause they have haunted me with this 'R9, R9, when is R9 coming out?'" pic.twitter.com/Ag3ggG4rdX

— Pop Crave (@PopCrave) May 20, 2019
No release date yet, though. Sorry, Navy.
Featured image via Instagram @badgalriri.