It's always a little fucked when you mix your booze with coffee. I woke up with the idea that Irish coffee would be nice but ended up beached in Dee Why getting sucked in and out of the morning tide. A few joggers stopped to take offence until my housemate said I had a medical condition. My ears have been filled with sand all week.
Anyway, in the immortal words of Naomi Campbell, 'wake me up then fuck me up'.
Here's the best events on this week.
16/02: Pseushi x Above The Clouds Launch Party
Our mates over at Above The Clouds have teamed up with Pseushi to produce a collaborative capsule marking ATC's 7th anniversary. Things kick-off at 5pm in-store at ATC, and it'll be your chance to cop some gear from this limited showing. Drinks will be provided all night long by Bombay Sapphire.  Catch you there.  
16/02: Bizarro And Ross From Friends At The Civic Underground. 
Bizarro and Ross From Friends are making their way over to The Civic Underground this Friday night. Headliner Ross From Friends takes his musical pastiche from a mix of early hip-hop sampling, '80s Eurobeat, and Hi-NRG. Things kickoff from 10pm, with musical guests Cop Envy, Andy Garvey, and Kato running in tandem. Pick up your tickets here. 
16/02: Protomartyr At The Oxford Arts Factory
Detroit's Protomartyr are finally set to tour Australia this month, after their singer Joe Casey said the band "will break up if it doesn't happen". They'll be running a set heavy on last years fourth LP Relatives in Descent, which The Times called their album of the week. Tickets are $39 and door's at 8.
16+17/02: The Mardi Gras Bar of Love & Protest
The National Art School in Darlinghurst are teaming up with Sydney Gay and Lesbian Mardi Gras  to present an exhibition space. There'll be drinks and art with Richard Weiss and Tudorstuart on the Friday and Heaps Gay on the Saturday. The gig's free but RSVP here. 
17/02: Nectar Presents Courtesy And Mama Snake. 
Nectar's throwing a party Saturday night from 9pm – LIGHT.  They've got Courtesy, Mama Snake, Chanel and Splitch lined up for the night in a location that's TBA. As specified in their Facebook event, "All booking fees gathered from this event will be donated to Yalari, a NFP that provides education scholarships for Indigenous children from regional, rural and remote communities."
17/02: Brockhampton Appreciation Party At The Lady Hampshire.
Brockhampton, "the internet's first boy band", will be lionised at The Lady Hampshire on Saturday night from 10pm. Mowgli May, JCAL and BUSY. will be playing a selection from their four albums along with some other new-school goodies until 3am.
17/02: Francesca Lombardo At Goodbar
FRANCESCA LOMBARDO, the DJ and producer hailing from northern Italy, will be hitting Goodbar this Saturday for a big night that'll be kickin' until 4am across two floors. Running in support will be Tezzel, Rory Vevers and Slim. Pick up pre-sale tickets for $20.00. 
17/02: Genesis Owusu At Oxford Arts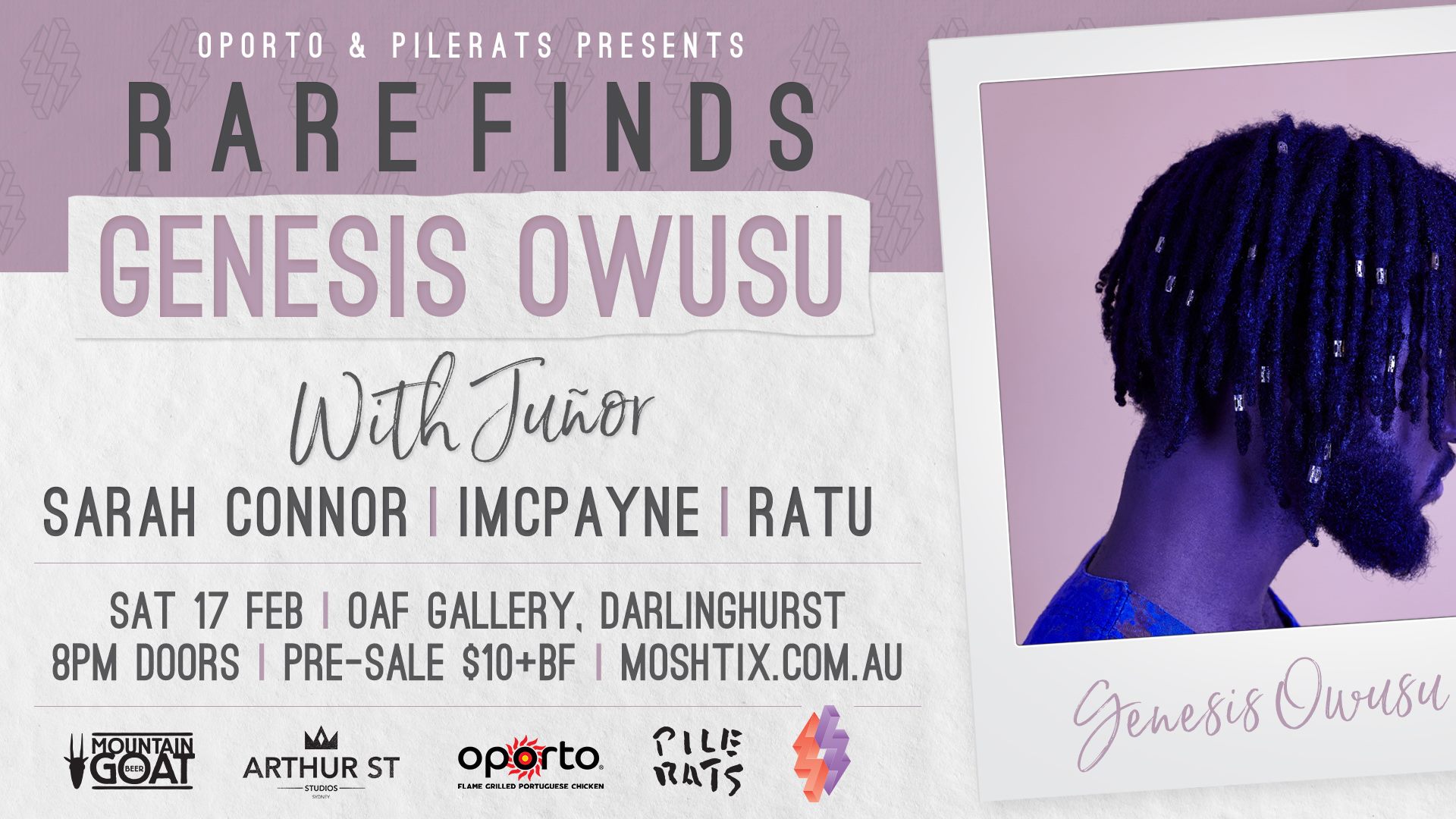 Rare Finds are stamping Genesis Owusu as their headliner for their East Coast touring circuit. His latest single Sideways copped heavy promotion from Triple J who praised his lyricism and artistic versatility. Sarah Connor, imcpayne, and Ratu will be the local support for the Sydney leg of the tour. Tickets are selling through, so get in quick. 
18/02: LUCIANBLOMKAMP At The Cellar Door
The Cellar Door in Redfern are hosting Melbourne-producer LUCIANBLOMKAMP with rising Sydney act Dive Bell running in support this Sunday at 6pm. LUCIANBLOMKAMP is fresh off part one of his three-part album, Sick of What I Don't Understand. Sort your Sunday sesh now – it's free event for those who RSVP. 
Need something to get you in the weekend mood? Treat your ears to a playlist by Aussie street artist king Anthony Lister. 
Header by Rachel Dray (REDDS FX)