Real Cool People is your insight into our favourite creatives, forging their own paths in the worlds of art, fashion, music and more.
Real cool people, doing real cool things.
Elliott 'Numbskull' Routledge is a key figure in ensuring Sydney remains colourful and contemporary, responsible for constantly embellishing the town in electrifying hues and eclectic patterns.
Constantly pushing the boundaries in art and creativity, his emotive pop art meets abstract style is plastered across the world's biggest cities and their vast streetscapes. Sydney's train stations and skyscrapers are home to his signature primary colour combinations and distinctive pattern work, and events like Splendour In The Grass use his talent as a massive cultural focal point. With artist residencies, installations, street murals, public exhibition projects and brand collaborations up his sleeve, we knew we had to have a piece of his artistry in our space to admire daily.  
Check out the genius at work below at REDDS HQ:
Growing up constantly surrounded by like-minded creatives (his siblings are artist & NYC Art director Marty Routledge and Nicholas Routledge, lead singer of Van She) he initially side-stepped traditional art school and forged his own extremely distinctive style inspired by graffiti and skateboarding. Later on, he studied multimedia and animation, equipping him with the skills to create the unique style he's gained acclaim for today.
In 2012, alongside renowned Sydney artist Beastman (Brad Eastman) and his brother Marty, Elliott opened The Hours –  a gallery that attracted incredible global talent. The crew also enacted "No More Boring Walls", a project that encouraged the public to nominate blank walls for a free makeover by the collective.
His passion for painting in public and transforming boring landscapes into a majestic concoction of abstract shapes and colours has given his art a transcendent quality – it works in huge public settings (like the Ashfield Station mural pictured below and private collections).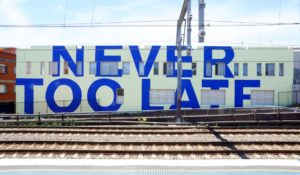 Elliott simply isn't restricted to street art – painting, installation, sculpture and illustration also feature on his stacked list of skills that've seen him take his work all over the world. Aside from Sydney, he has installed public murals in London, New York, Melbourne, Tokyo, Paris, Singapore, Amsterdam and Hong Kong, many of which are now featured as collectable items. He's has had his worked featured at Art and About Festival, Splendour In The Grass, collaborated with the skin care line Kiehl's, and held a residency in the Museums Quartier in Vienna.
He describes his work as a melding of 'colour hierarchy, typography, abstract heroism and themes of idolism within modern contemporary culture' – it's bright, captivating and iconic in every which way possible.
If you live in Sydney, chances are you've spotted his bright pops of red and blue plastered across iconic streetscapes – like his piece in the middle of the CBD. It's 18 stories high on the corner of Park and Pitt, a feature piece of the Art and About Festival.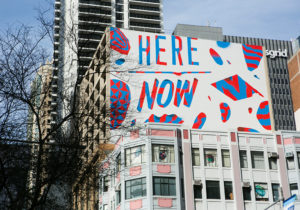 A recent paint trip to New York saw him collaborate alongside renown artists Roachi, Georgia Hill and Thomas Jackson, putting up his distinct style throughout the rooftops and alleyways of the burrows.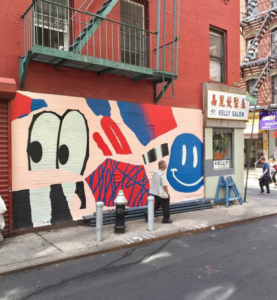 (Chinatown, NYC) 
His willingness to continually develop and push the boundaries of his own unique, intriguing works has fostered the curation of a style that is at the forefront of the genre, and as a result has placed him in high demand from both corporate and government bodies alike, whom look at connecting with audiences with engaging and emotive work. His work has a universal quality – it's fun and lighthearted yet abstract and unique, allowing audiences to create their own meanings and attach specific qualities to each piece.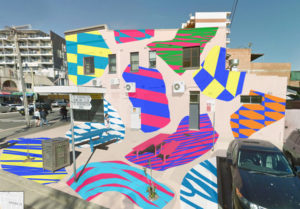 (Streetscape in Kingsford, Sydney for Sydney Transport Authority as part of the ArtMoves project)
Elliott came to hang out in the office and painted us a mural that blends his signature abstract shapes, primary colour schemes and left of field patterns, that melt together in chaotic beauty.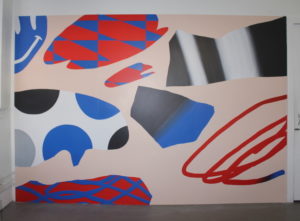 You can catch Elliott's work in his upcoming Melbourne exhibition on October 27th. Follow Elliott for more details.
Connect with Elliott I Website I Facebook I Instagram