Last week the world sat in awe as Nike revealed the bombastic and indulgent  Swarovski Crystal covered Air Max 97's that totally scream 'I want to be taken seriously'.
The shoes were embellished with 55,000 Swarovski crystals, now, a new level of high maintenance-ness has been been met.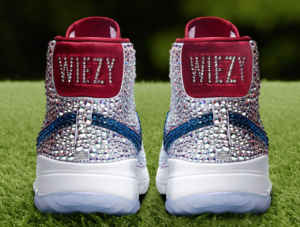 To honour athlete Michelle Wie,  the kicks feature 6,110 Swarovski crystals, in which each were hand applied to the classic Blazer silhouette. The kicks have been aptly titled 'Wiezy', honouring all things blinged out.