The most enthralling and overtaking news of the last week (other than Kanye and Jay-Z's feud) has most certainly been the ridiculousness that has permeated the release of Supreme and Louis Vuitton's now legendary collab drop.
From stupidly inflated re-sell prices to camp out lines, the drop has reached unbelievable levels of hype – an intensity neither Louis Vuitton or Supreme can seem to handle right now.
According to Hypebeast, customer services have confirmed that the line will no longer be sold online or in store.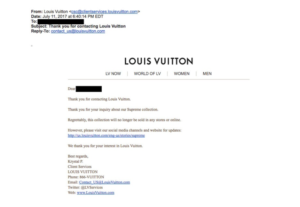 The New York pop location in SoHo set for a July 14 open will no longer be going ahead as they cannot "articulate how this product launch will benefit the community in any way." This could be to do with the level of mayhem streetwear/ high fashion faithfuls have been creating around the city – the NYPD had to arrive at the store after the owners began expressing their concerns at the crowd blocking the storefront.
Looks like Ebay re-sales are your only option now. Sorry.
Follow Supreme & Louis Vuitton