Kendrick Lamar now holds the distinct honour of the highest-grossing rap tour of all-time. Yes, you read that right. He's been a fan-favourite in the hip-hop scene since his breakthrough debut album, Good Kid, M.A.A.D City in 2012. Not only has he consistently received critical acclaim for his music, but he has also built a devoted fanbase with his messages of social justice and personal growth. This devotion has translated into commercial success, as seen with his recent tour, 'The Big Steppers.' 
According to Touring Data, King Kndrick's run pulled in 929,000 tickets across 73 shows for a sum of $110.9 million. The show made stops in the United States, Europe, Australia, and New Zealand. The previous record holder was Drake, who set the mark with his Aubrey & The Three Migos tour.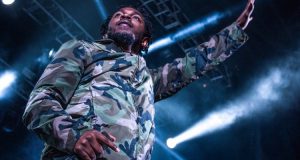 Kendrick is known for his collaborations with other artists, and his tour was no exception. He brought out guests from artists like J. Cole, Future, and Schoolboy Q – each collab added an energy like no other. That, of course, mixed with his captivating live performance, stage design, and his commitment to social justice being an integral part of the tour made it one of the best tours – period.
Kendrick has never been one to shy away from talking about racial inequality, police brutality, and other important social issues in his music – which fans RESPECT. So, if you can pump out epic *tunas* while spreading the love, why not, hey!?
'The Big Steppers' tour was an incredible success for Kendrick Lamar, but it wasn't just his music that impressed fans. Every aspect of the tour was thoughtfully put together to create an unforgettable and inspiring event. From frothing fans to meaningful collaborations to his social message, Lamar has once again shown that he is at the forefront of the hip-hop world. Bring on his next Down Under tour.
Featured image via thissongissick.com