WHAT: Stoney Roads' FORMATIONS Festival
WHEN: Saturday, October 21st
WHERE: Manning Bar, Sydney
The Stoney Roads boys are back at it again, curating their biggest event yet – a frikken festival. With a trap-heavy roster full of our local faves to boot. Get familiar with the guys behind it all, here.
Do you like the (literal) sounds of Swindail, Mazde, Montell2099, aywy, Jade Le Flay and Flex Mami?
Be in The Cut and drop your e-mail below for  your chance to win a double pass to FORMATIONS Festival for yourself & a mate. *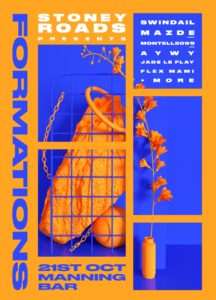 *Competition closes on 9am Sunday 15 October, 2017. Winners will be contacted by the end of the day. Prize does not include transport or accommodation. Double pass only available for FORMATIONS Festival 2017.
Photo from Stoney Roads