Gather together your trailer park girls and get ready to go 'round the outside, because Eminem is coming back to Australia for the first time in 5, long, shady years.
It was leaked just yesterday that Marshall was touring yet again for Kamikaze, and the official word was announced today that the rumours were true and we can expect Slim back on Aussie shores as of 2019.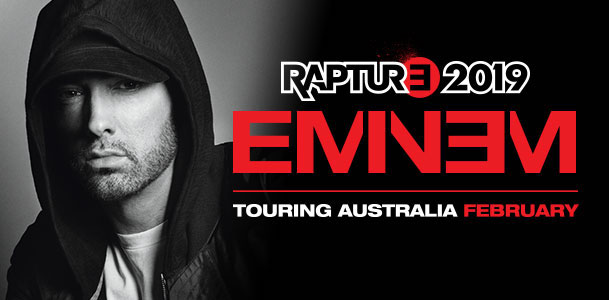 The Rapture Stadium Tour will kick off on February 20, 2019 in Brisbane, before heading to Sydney, Melbourne and Perth.
Kamikaze shot to number 1 on the Aussie charts after its anticipated release, weakening knees at such a high rate that mum's spaghetti couldn't even fix it.
All bad references aside, we can't wait for Eminem to return again for what could be his greatest tour ever. We'll have to start cleaning out our closets to find the perfect outfit.
Ok, we promise that was the last one.
Tickets go on sale to the public at 2pm AEST, October 22nd, 2018.
Wednesday, 20th February, 2019
QSAC, Brisbane
Tickets: Ticketek
Friday, 22nd February
ANZ Stadium, Sydney
Tickets: Ticketek
Sunday, 24th February
MCG, Melbourne
Tickets: Ticketek
Wednesday, 27th February
Optus Stadium, Perth
Tickets: Ticketek
Cover image via Facebook @eminem.