DRAM is a huge hitter in the new school class of hip hop, already dominating the top tier echelon of influence and creativity in what has been a pretty rapid-fire career so far.
He's had a hit number one on the Billboard charts, worked with your faves: Lil Yachty, SZA and Kevin Parker, and now he's making his way down under for his first Australian tour for Falls Festival this summer (where Vince Staples, Flume and Run The Jewels are also hitting up).
We caught up with DRAM whilst he was working on new tunes in LA to talk all things tour life…
What are 3 things that come to mind when you think of Australia?
Outback Steakhouse, kangaroos, and I think of Finding Nemo…  P Sherman 42, Wallaby Way, Sydney…
Is there anywhere, in particular, you wanted to visit?
I'm not big on sightseeing, I'm not a tourist kind of guy. I like to find my own paths and journeys when I'm in a new place. What's the hangout spot that the real Australians go to?
Well, Byron Bay is pretty iconic and distinctly Aussie, we reckon you'll like it a lot. Speaking of chilling out in Byron, what are your pre-show rituals to keep the vibe up before you head onto the stage?
I like to drink iced tea with lemon in preparation for performing, pretty much.
Do you have any special guests you'll bring up on stage for your set? 
Basically, it's just gonna be a good time and a good vibe. I'm making music in the studio right now so I'll be getting some of that going for my sets.
Are you bringing your dog with you to Australia?
Nah, I can't bring him with me to festivals, I took him on my first tour but he can't come with me this time!
Your album is called 'Big Baby DRAM', what sort of nicknames did you get as a kid?
So basically my whole entire family called me 'Mook' my whole life, but I call myself 'Baby' and my real name is Shelley. And then my grandfather called me 'Lil Shelley'.
What's the best meme/video you've seen recently?
Let's see, let's see… it's a video of this dude who fell asleep on a paddy wagon and they put the 'Mario' theme music over in everytime he falls, it says 'Game Over'. It's amazing.
(Someone find us a link please.)
If money was absolutely no object, what would be in your dream tour rider?
First of all, I would like a white chocolate fondue fountain with pastries, rice crispy treats, and macaroons and shit like that. I would also like a TV projector with 4K quality and, to go with that, I need a Netflix account and a Hulu account. I would like a pinball machine, I want Gucci washcloths that I can use after my shower, a velvet robe and a 100 pack of Magnum XL condoms.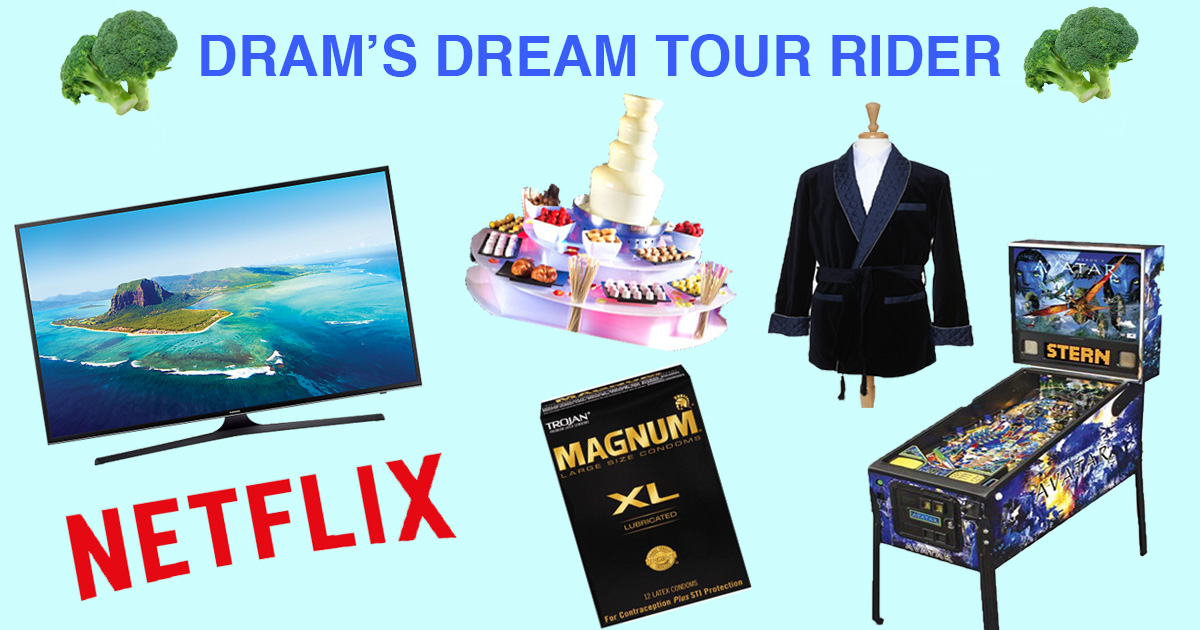 What are you binge-watching at the moment?
'Vice Principals', it's an HBO series, so funny.
What are 3 things you cannot live without?
My hearing, my sight and weed.
Catch DRAM at Falls and cop your tickets here. For more hip hop catch ups and banter, read the chat we had with Allday ahead of his Yours & Owls run.