Drake has never been one to shy away to wear his heart on his sleeve (think every track on the album Take Care, his proclaiming of an undying love for Rihanna at the 2016 VMA's, the list goes on….). Now, he literally has the face of the individual who quite literally changed his life permanently inked on his arm.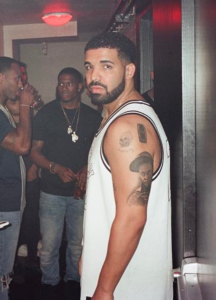 Drizzy now has the face of none other than Lil Wayne inked onto his arm, with pics surfacing overnight. Fans have taken to Twitter to voice their thoughts on the ink.
Drake has tattoos of Aaliyah, Sade, wants a Celine Dion one…and now Weezy? pic.twitter.com/DQAyEq4lN9

— ™Marcus (@TheMisterMarcus) July 25, 2017
"No one has more permanent temporary tattoos than Drake does."

— Cocaine Beach (@BigGhostLtd) July 25, 2017
Drake pays homage and shows respect for his mentor Lil Wayne, The man who changed his life pic.twitter.com/XMgiVpvjf5

— Music is Life (@ArtOfMusic_) July 25, 2017
Forever on our radar, Drake has sent fans into a head-spin recently for uploading these photos to Instagram, with speculations growing that a Take Care 2.0 is on the way.