Remember the Wii Fit board that was popular for 3 seconds in 2009 because of its supposed cardio benefits, all wrapped into the fun of a video game? Well, a 30 year old iteration of the game has just sold on Ebay for a sweet $55K.
Stadium Events, originally sold as part of the NES was designed to be played with the Family Fitness Control Mat, featuring Olympic events such as triple jump, long jump, 110 metre hurdles and 100 metre sprint.
The seller outlines in the video below, that his mother found the game in a thrift store, not knowing the incredible value of the game.
The game is considered extremely rare, because shortly after its release Stadium Events was re-branded as World Class Track Meet.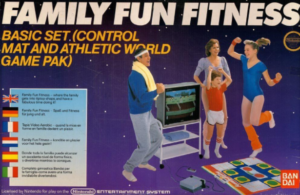 How about a wholesome family game revival in 2017…?