A closer look at how Jordan designers reimagined the original 1985 AJ1 to create the new Air Jordan 1 'Chicago' & how you can gain exclusive access.
Sneakerheads rejoice! The highly anticipated Air Jordan 1 "Lost & Found" is about to drop, and it's coming by exclusive access only. You already know what the Air Jordan 1 is all about. It's a staple of sneaker culture, and a must-have for all the sneaker-fanatics out there.
The AJ1 "Chicago" is a classic sneaker, inspired by the high-top Air Jordan 1 colourway, originally released in 1985. This year's release of the "Lost & Found" edition is sure to be a hit among Michael Jordan and basketball fans, and anyone who appreciates cool streetwear. The AJ1 Chicago draws inspiration from what an original 1985 Air Jordan 1 would look like if found decades later in a dusty stock room. And, just like the original, the AJ1 Chicago features a larger swoosh on the side panel, reminiscent of the style of the 80s. Pretty freaking sweet if you ask us.
According to the Jordan design team, the goal of this shoe was to create a "time travel moment," especially for a new generation of consumers. The process of buying a shoe today is very different from what it was like in the 80s. This sneaker attempts to capture that lost and found feeling, giving consumers a taste of what a box fresh, vintage AJ1 would have looked like back in the day.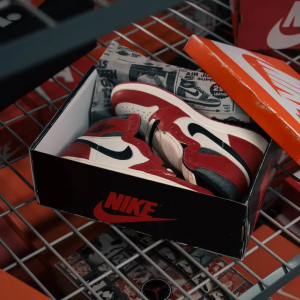 For the Air Jordan 1 "Lost & Found," exclusive access will be granted to select Nike members on Wednesday, June 16th. The shoe is expected to sell out quickly, so act fast if you want to cop a pair. Whether you're a die-hard Michael Jordan fan or simply appreciate cool streetwear, the "Lost & Found" edition is sure to be a standout addition to your collection.
Featured image via nike.com