Hallo-meme is just around the corner, and if you still don't have a costume ready yet, we got you.
We've rounded up some of the internet's most viral moments of 2019 to give you inspo for your fit. And if you're throwing a party, you can't go wrong with serving drinks (and looks) in REDDS' Midnights.
Here's some last-minute ideas that are sure to earn you big brownie points in the meme game:
IGOR / Tyler, The Creator
For all you Tyler, The Creator fans, ya boy is selling the two-piece suit and blonde Warhol wig combo on golfwang.com. Take your pick from baby blue, pink and red, or neon yellow. You'll have to supply your own pair of shades though.
View this post on Instagram
Area 51
This one works on your own or with a group of your mates. You just need someone to be an alien, an Area 51 guard, and most importantly, someone who's fast enough to Naruto run.
VSCO Girl
Complete this fit with a scrunchie (or 6), a Hydroflask, a shell necklace, and Fjällräven Kånken backpack.
Popeye's Chicken Sandwich
It's not Halloween unless someone dresses up as something unnecessarily sexy. Aussies may never know the taste of the chicken sandwich that sold out immediately in America, but at least you can still get yourself a sexy costume of it here. And for all you vego's, there's a sexy Beyond Meat costume too.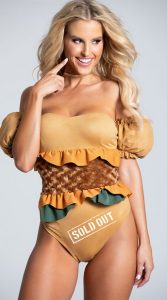 Kombucha Girl
This costume is for everyone, girl, boy, or anyone in between. Just grab a bottle of Kombucha and your facial expression a-game.
Buff Bunny & Small Bunny
Works best if you know someone who's swole. All you need is some bunny ears and you're good to go.
Rise and Shine
Achieve this look by cutting up yellow cardboard in the shape of the sun, and make sure to cut a whole for your face.
View this post on Instagram
We've still got one week until Halloween is here, so who knows, there might be a meme to dress up as by then.
Featured image via Instagram @kyliejenner.